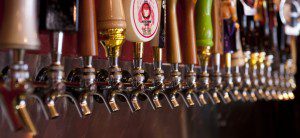 With 16 taps of fresh craft beer and hundreds of bottles of the finest beers from around the world right here in Nanuet, NY, Growler & Gill is the perfect destination for devoted beer enthusiasts as well as newcomers to the pleasures of craft beer. Our establishment is aptly named; you're invited to sample our selections on-premise in a "gill"—the British equivalent of a 4-ounce glass and fill up a "growler," a 64-ounce glass refillable jug.  Stop in and enjoy a pint, have a cold bottle from our coolers or mix a six-pack of your favorite microbrews to go. Not surprisingly, our bar menu was created with beer in mind— a delicious twist on traditional pub fare that pairs perfectly with every craft beer we serve.
Stop in and visit us to see what all the buzz is about and why Growler & Gill is becoming the destination of choice for craft beer lovers in the Tri-state area.
The Beer Geeks
Our group of "Beer Geeks" is extremely knowledgeable about craft beer. They are dedicated to serving customers and answering any questions they have about beer. We have certified beer cicerones on our team of Beer Geeks, as well as experts in home brewing.
Home Brewers:
Ed Phalen
I am a chemist with a masters degree in medical biology and Post grad studies in Toxicology/Pharmacology
I have been home brewing since 1974.  I am an award winning brewer who has won several medals from KY State Fair jointly with my brew partner Jeff Yeast (yes, that's really his name)
I also have recent award from NYC Homebrewers Guild, 2009.
.
Customers are Raving!
Yelp Reviews:
"Great beer selection on tap and in the "store". Friendly, helpful staff and an all around cool place to hang out. The food is limited to some small plates, but is done well with quality ingredients. They have growlers on most of the taps at a reasonable price."
Dave D
————–
"Went there for the first time today. It's truly an innovative concept-part bar, part retail. Excellent selection of high-end microbrews, some that I'm seeing for the first time. The owners are very nice and helpful. Highly recommended."
Andy S.
__________
More Yelp Reviews:
http://www.yelp.com/biz/growler-and-gill-craft-beer-bar-nanuet
Facebook Recomendations
"We went there last weekend for the first time for my husbands 30th! They have great apps (cheese n meat trays, and pretzels to name a couple) some food choices were: pizzas, pulled pork sliders, and yummy things like that! Great place- helpful friendly staff- that really LOVE what they do, which makes everyone else love it too! can't say enough good things about this place!" Colleen K.