2015 Tripadvisor Certificate of Excellence Award
Founded in 2010, the Certificate of Excellence award honors hospitality businesses that consistently achieve outstanding traveler reviews on TripAdvisor.
Properties that are awarded the Certificate of Excellence demonstrate hospitality excellence and represent the upper echelon of businesses listed on TripAdvisor, the world's largest travel site
Voted Top 5 Beer Bars in Northeast!!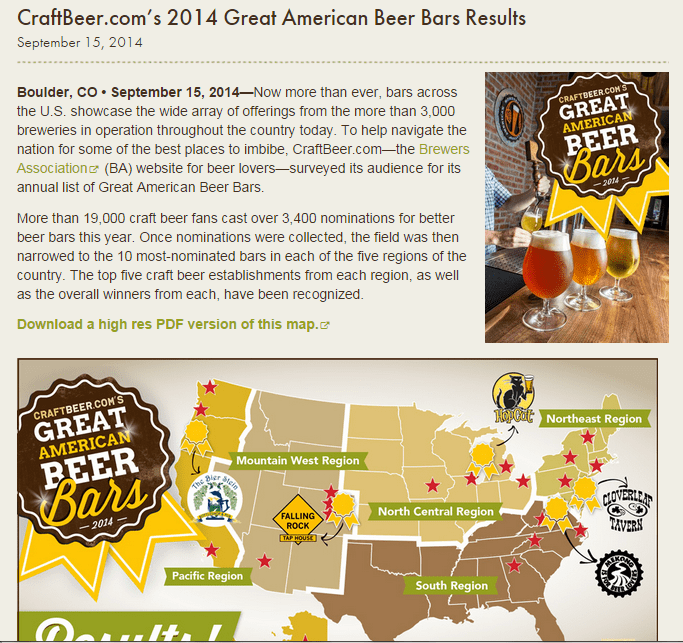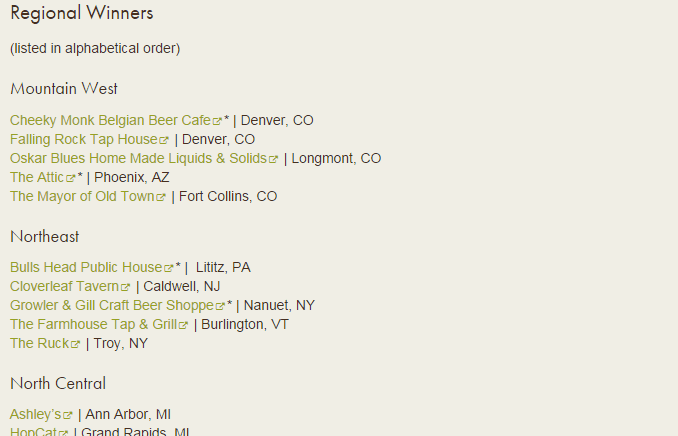 "World Class" Rating from the members of Beer Advocate: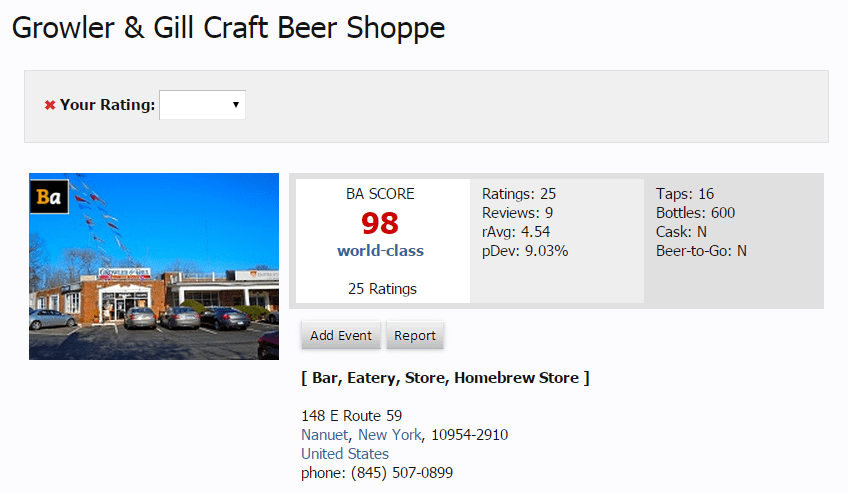 HobokenJack
New Jersey
5/5  rDev +9.9%
Excellent place for craft beer lovers. Here are the highlights:
1. The staff is excellent and very knowledgeable about craft beer
2. There are about 20 taps that are always rotating. You can get growlers for most of them
3. Huge selection of craft beers. My guess is around 400-500 beers. Plenty of bombers are rare finds
4. Every Thursday night there is a craft brewery coming in and offering tastings. Not just local NY/NJ
brewers, but from all across the US. Firestone Walker, Bell's, Stone.
Best place for craft brew fans in the Lower Hudson Valley in the NYC metro area. 08-19-2014
hiker1701a
New York
4.9/5  rDev +7.7%
Great craft beer shop. Not only do they have rotating taps constantly featuring different craft beers, they've got bottles from all over the world for sale as well. It's fun to mix and match 6-packs and try lots of new beers. A small bar menu, including some truly awesome bavarian pretzels! The staff is friendly and extremely knowledgeable. I wish I drank beer more often! They also host craft beer festivals.   06-30-2014
Customers are raving:
Yelp reviews:
Ashley S. Secaucus, NJ
5 Stars
2/25/2015
"Growler & Gill how I love you! One of my favorites spots of all time for great bites and even better craft beer 🙂
G&G is much more than just a place to eat and drink. They just launched a coffee shop, open in the morning until the early afternoon, and offer almond milk and soy milk for those who cannot drink regular milk such as myself. They also have an impressive selection of bottled beers that you can buy to go. There's a cozy corner with 2 couches where you can sit and relax with friends or read a book. They even have an acoustic guitar you can strum on!
They also hold many events such as trivia night, open mic night, and several beer tastings on a weekly basis. I always look forward to their beer tastings on Thursdays and get to try many delicious beers from various breweries near and far!
When it comes to their beer, the tap list is always rotating and has a perfect balance of different styles of beers. They have a tap cam that you can view on their website so you can have an idea of what they have to offer before visiting. You can get flights here and, of course, get your growler filled to go. They also sell a bunch of different glassware.
At this point I've tried pretty much their entire menu and everything is delicious. Their Parmesan Truffle fries are absolute perfection! The fries are all evenly coated and served with sides of ketchup and truffle aioli. Their bacon and pepperoni pizza is also one of my favorites, crispy thin crust and extremely flavorful. They do not skimp on the toppings!
A few people have complained about the service but I have never had a bad experience with that. The workers are very friendly and knowledgeable. I only wish they would expand their menu (since I've already tried everything) and that they would have more food specials.
Don't think twice about visiting Growler & Gill!"
____
Dave D.
5 Stars
"Great beer selection on tap and in the 'store.' Friendly, helpful staff and an all-around cool place to hang out. The food is limited to some small plates, but is done well with quality ingredients. They have growlers on most of the taps at a reasonable price."
____
"Went there for the first time today. It's truly an innovative concept — part bar, part retail. Excellent selection of high-end microbrews, some that I'm seeing for the first time. The owners are very nice and helpful. Highly recommended."
Andy S.
__________
"Stopped in on a whim a few months back, and have to say WOW, what a find. The few items for snacks are EXCELLENT. And the beer tap selection is perfect — love the idea of walking up to the bar, sampling and asking the bartender what he suggests. Just a great feeling."
Jason P.
__________
More Yelp reviews:
http://www.yelp.com/biz/growler-and-gill-craft-beer-bar-nanuet
Facebook recommendations:
"We went there last weekend for the first time for my husband's 30th! They have great apps — cheese and meat trays, pretzels, pizzas, pulled pork sliders, and yummy things like that! Great place — helpful, friendly staff — that really LOVE what they do, which makes everyone else love it, too! I can't say enough good things about this place!"
Colleen K.
This is the county's diamond! Real people are here! Nice and friendly atmosphere! Awesome beer with revolving selections! Knowledgeable beer enthusiasts! Good food! Generous people!
-Anonymous